Traditions And Culture Behind Wearing Lehenga On Your D-Day?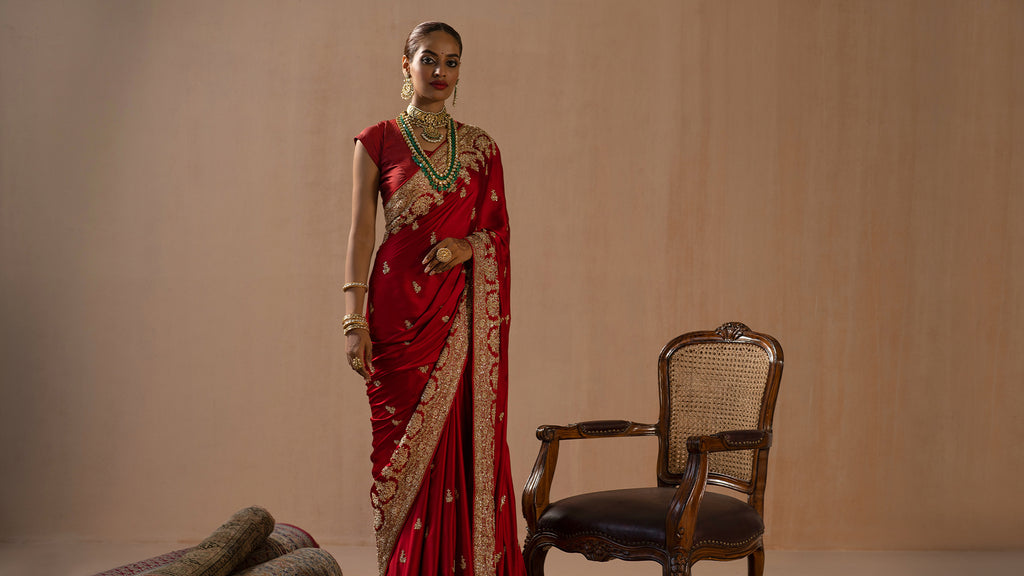 Weddings are an occasion for a bride to be to bring on her A-game for this special day of her life which will remain etched in her heart forever. The Indian bridal lehenga is the most exquisite garment ever created for the purpose of creating an ultra-glamorous ensemble for the bride.While the modern brides are all about pomp-and-show, their roots still lay in the tradition and culture while choosing their outfit. Everyone from the minimalist to the maximalist will find the perfect lehenga among the wide pool of wedding bridal lehengas we offer at Malhotra's Indian Heritage.
Traditional Indian dress consists of a lehenga, choli, and a choker. This attire is popular among India's youth and is reserved for special events like weddings. The most important day of your life may seem like an excuse to try out every new trend in wedding couture, but if you want your look to last, a timeless one is your best bet, and this comes through the traditional lehengas worn by Indian women. Our store in Lajpat Nagar, Delhi is your one stop destination for fulfilling all your dreams associated with your wedding dress.
Lehenga, A Traditional and Cultural Heritage For India:
Though the modern brides have constantly been on the edge while deciding what to wear for their wedding day, the Lehengas still remain at the top of the list for every bride. While lehengas are a traditional dress of the Indian weddings, they still remain a stylish party weardress, ready to be worn for every wedding, not just by the bride, but even her kin and family.
Mughal Period:As the Mughals expanded their control and influenced the culture of Northern India, the style flourished there. Lehengas, worn by women of all social classes, are traditionally associated with the Indian subcontinent.
Indian Styling of Lehenga:Throughout the 19th and 20th centuries, India's Lehenga culture continued to evolve. Different regions of India incorporated local styles into these lehengas, such as Gujarat with its patchwork and mirror work or Rajasthan with its signature Gota Patti and Kundan embroidery. Each nation created its own distinct model by drawing on its own unique cultural resources.
Comeback through Bollywood:In the 1990s, the lehenga made a comeback as a trendy garment. Bollywood films with lavish wedding scenes were known to captivate viewers with their vivid colours and elaborate needlework.It was popularized by Bollywood films and then showed up on the runway at Indian Fashion Week.
Contemporary ideas of the lehenga: As Lehengas gained popularity, many modern brides continue to flaunt their lehengas on their D-day. We, at Malhotra's Indian Heritage, offer you a wide range of party wear wedding lehengasinfused with modern styling for our contemporary brides in our bridal lehenga collection.
Shift of Contemporary Brides To Sarees:
The traditional dress of the Indian bride, the lehenga choli, has been updated with a modern twist in recent years. Today's Lehenga Cholis are undoubtedly minimalist and aesthetically pleasing, thanks to the use of urban elements and techniques. Some brides may veer away from the traditional lehenga in favour of a stunning saree. Similarly, many famous people have abandoned the traditional crimson and Maroon lehengas in favour of beautiful sarees.
Saris are an essential part of each bride's bridal wardrobe. While fashion for idea drapes may come and go, classic weaves are always appropriate for a wedding. Anushka Sharma selected a red Banarasi silk for her reception, while Deepika Padukone picked an orange Kanjiwaram drape for her Konkani wedding ceremony, both of which are examples of famous brides who have chosen a handwoven sari for their big days. Whether it's a Banarasi, Kanjiwaram, Paithani, or patola, a six-yard saree is sure to become a cherished heirloom.
If you wish to choose a traditional yet modern outfit for your wedding, we have an entire range of the latest designer partywear sarees for your D-Day. You can visit our online website to shop for unique saree designs.
 A New-Style of Party Wear Sarees:
If you are looking for a Banarasi saree for the bride, then you are looking in the right direction. While brides want a hint of tradition in their contemporary styling, we bring you an entire range of party wear sarees at our Lajpat Nagar Store. These latest sarees are available under the new arrival saree collection on our online website Malhotra's Indian Heritage as well.
We bring to you a line of sarees which includes:
What Matters Most Is That You Keep Things Authentic for Yourself
In honour of her cultural heritage, actress Patralekhaa donned a red saree embellished with gold embroidery for her wedding. If you are a modern bride on the lookout for anything comparable, you are in luck. Here is a pure silk red saree with dabka embroidery that will allow you to feel like the modern bride you always dreamed of being while yet honouring your cultural heritage.
Keep in mind that while it is important to honour your traditions, today is also about celebrating who you are and what you stand for. The era of seeking others' approval is over.
Malhotra's Indian Heritage
will allow you to maintain your cultural ties and be true to who you are at heart.