Things To Keep in Mind, Before and After Your Purchase Your Bridal Wear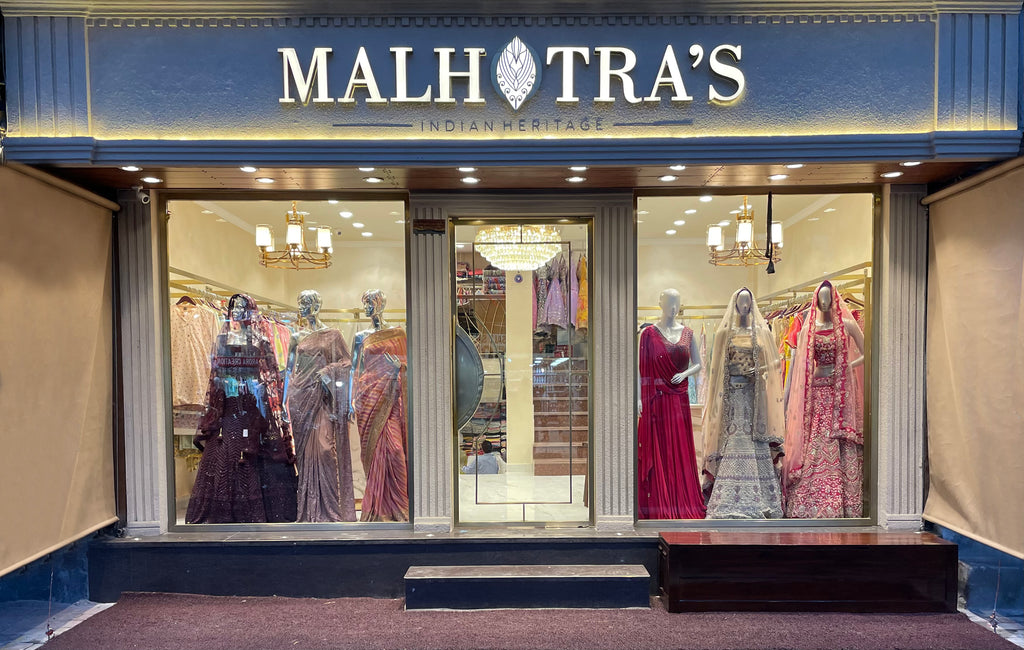 You've never really lived until you've been a part of an Indian wedding. There's a lot of music and dancing (due to our Bollywood connections), a rainbow of colours, and endless celebration and ceremonies at an Indian wedding.
In India, weddings are marked by a wide variety of traditions that help to set the occasion apart. From the bride and groom's faces being painted with turmeric to the bride's sisters hiding the groom's shoes, there are countless other interesting and unusual rituals and traditions during an Indian wedding that you're sure to love. Indian weddings, however, also include a number of pre-wedding tasks.
The most crucial duty among everything is purchasing your bridal attire, and we at Malhotra's Indian Heritage are here to provide you with the best saree collection and the best bridal lehenga collection at our Lajpat Nagar store in Delhi.
Shopping for an outfit at the appropriate place:
We know it might be challenging for you, the bride-to-be, to locate an affordable wedding dress that is both elegant and timeless. With that in mind, we present to you a compilation ofnew style wedding sarees and party wear stylish lehengas at our store in Delhi.
We've made it more simpler than you probably expected to select the best store for your needs. In Malhotra's Indian Heritage, you can find the perfect dress for your wedding. If you're concerned that you won't have time to browse our newest selection in person before making a decision, you may do so with the convenience of our online store.Click here to view all our latest sarees and bridal lehengas online.
Things To Keep in Mind Before Choosing Your Wedding Outfit
Shopping for a wedding dress is a crucial part of the bride's wedding preparations. To some ladies, finding the perfect wedding dress is more essential than planning the reception.
The Number of People Accompanying You:

Don't bring too many folks with you to the bridal shop. Attempting to decide what to wear in such a crowded area can cause undue stress and chaos.
Remaining Ahead of Time:

Don't procrastinate until the last minute, and don't assume that four months is plenty of time to shop for a wedding dress. Beginning your search for a wedding dress at least four months in advance is recommended. This way, you can avoid the stress of last-minute buying and pick from a wide variety of options.
Good Quality Fabric:

When planning your wedding attire, it's crucial that you use only high-quality fabrics. You definitely don't want to be in pain on your wedding day.  Summer weddings call for airy fabrics like chiffon and georgette. For monsoon weddings, crepe, net, georgette, and chiffon are suitable selections. For winter weddings, silk and velvet can never go wrong.
Measurements of Your Outfit:

On your wedding day, you will not be lounging around in your gown. You'll have to touch the elders' feet, pose for long picture shoots, perform a variety of tasks, and who knows what else! This is why it is crucial that the dress you choose fits you in every manner possible.
Keep Your Budget In Mind:

Setting a spending limit in advance will help you avoid overspending. Don't forget to mention your budget to the sales associates in the showroom so they can focus on displaying just affordable options. While it's important for women to have lofty goals, they need also be practical about their financial resources.
Keep Your Spouse In Mind: Yes, he may not be up-to-date on the latest trends in bridal wear. However, you can ask him for advice on how to dress the part by inquiring about his favourite colours to see you wear, if he favours elaborately decorated or understated ensembles, etc. You can also show him some examples of the fashions you're considering online to see if he likes the general direction you're taking with your purchase.
Things to Keep in Mind After Your D-Day regarding your Outfit
While you have enjoyed your wedding day in your bridal outfit, it is also important to preserve this outfit. You might not have any idea where or how to keep your wedding gown preserved. Let's examine some of the DOs and DON'Ts of keeping your wedding dress.
Read Your Dress Labels:

If you want to preserve your garment in pristine condition, be sure to follow the care instructions listed on the label. Also, you can check with your dry cleaner to make sure they have the right equipment and know-how to clean the dress before taking it to them.
Never Try To Wash A Stain Yourself:

Stop being a Wonder Woman and stop doing it! It's impossible to predict how the dress's fragile fabric will react to embellishments like lace, net, or pearls. If you can't fight the need to exert control, drinking water is a safe bet to clean a stain.
Look For The Right Storage Box:

Your dress needs to be kept in a box that is both acid-free and pH-neutral. The packaging should be watertight, with some silica gel packs inside to absorb moisture.
At the end, we are here to provide you with our latest saree collection and designer bridal lehengas in Delhi, at our Lajpat Nagar store, in the heart of the city.