The Choice To Be Made From The Pool Of Fabrics We Bring To You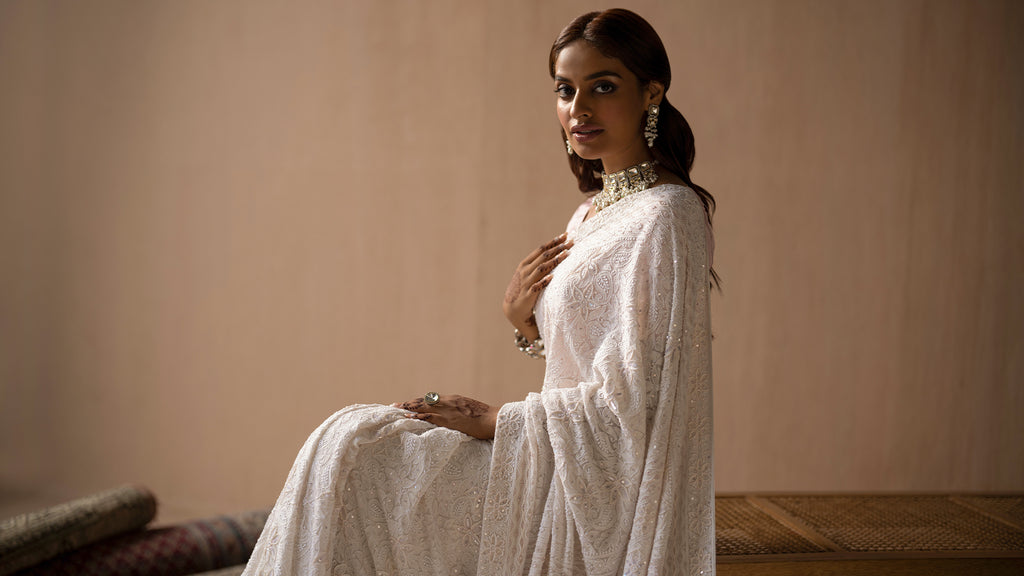 It's already wedding season! And with that comes the expectation that you will look your absolute best on that day. But how can you ensure that the inside of your garment also looks great?Choosing a wedding dress is much like picking out an outfit for the season, with specific weight fabrics, designs, or colours being more appropriate for fall, spring, or summer weddings.
Wedding dresses come in a wide variety of fabrics, so picking the right one requires some thought into the desired look and how each fabric will contribute to achieving it. Silk, brocade, velvet, embroidery, and satin all make for more labour-intensive wedding dresses such as those available in our bridal lehengas collection, but the extra effort is often well worth it in the long run.
Recently, all of us have been gushing over the beautiful photographs from Vicky Kaushal and Katrina's wedding, in particular how wonderful all of her ensembles were. In particular, we have been enamoured with the bridal attire.
Choose A Fine Quality Fabric
It is essential that the fabric you choose for your wedding dress has a high quality. Not only will it have a beautiful appearance from the inside out, but it will also be durable throughout time if you make sure that the fabrics fine. Before you make a purchase, it is important to do some fabric research and comparison shopping.You should be ideally looking for a fabric that is resistant to both wrinkling and water, such as Raw silk or Banarasi brocade. Our collection of latest Banarasi sarees caters to this need of yours.
Determine the Fabrics Based on the Colour Swatches
Picking the perfect shade for your wedding dress is not a simple endeavour at all. However, there is no need for you to worry about it because we are here to help you handle this concern of yours. We have our colour swatches available, and they will be of great assistance to you in selecting the ideal hue for your wedding dress. At Malhotra's Indian Heritage, we offer you a variety of colour options, from which you can select the one that best suits you.
Kinds Of Fabrics We Offer
We at Malhotra's Indian Heritage are here to cater to this demand of yours as well. We bring to you a wide variety of choices to choose from while selecting the ideal fabric for your wedding dress. Our store, located in the heart of the Lajpat Nagar Market, brings you a wide array of fabrics which are best suited for your wedding lehengas and sarees.
Organza:

The fabric organza, is delicate, crisp, and sheer. Glass organza has a shimmering quality to it, whilst sparkling organza has a blingy quality to it. Organza, unlike chiffon, has more structure and a firmer form, making it an excellent choice for weddings that take place in the winter. This fabric will give you a shiny sheen and a clean drape if you choose to use it.
Georgette:

This material is quite popular among Indian ladies, and it also never fails to live up to their expectations. Because of its light weight, suppleness, and gracefulness, it is the perfect complement to bridal styles that are understated and straightforward. This exquisite fabric will take any evening gown or bridal lehenga to the next level, bringing your complete ensemble to a whole new level. The fabric's finish is a great choice for occasions that will take place in warmer weather.
Banarasi Silk:

 

Symbolising opulence in attire deemed fit only for the royal families, Banarasi silk sarees have long been framed for their intricately woven designs interspersed with motives reflecting India's rich heritage and culture. This fabric is as old as the puranas of India and will add a traditional touch to any outfit. It is ideal for all kinds of weddings.
Net:

The inclusion of net as a fabric offers the necessary detailing for the illusion. Simply said, it adds a dash of glitz to any bridal dress you choose to wear. In order to achieve the most elaborately detailed pattern possible, this fabric is ideal for use on the back, the neck line, and the sleeves. The most popular choice for brides is to have their veils and dupattas made of net. In addition, net is an excellent choice for the fabric of bridal sarees.
Cotton: The cotton fabric reigns dominant throughout the entire summer. Cotton bridal lehengas and sarees are comfortable and flattering for women of all shapes and sizes. Because of its absorbent, fresh, and breezy feel, it is very lightweight and simple to put on. It ss ideally suited for nuptials that take place in the spring or summer.
When looking for the perfect dress, there are a lot of factors to take into consideration, but if you know what kinds of fabrics you like to wear and how they look best on you, the selection process will be easier. You are seeking for the best one, not just the best one in terms of looks, but also the best one in terms of the drapes' Colour, embroidery style, and material weight. In other words, you want the finest one.. You also want it to be within your financial means, so keep that in mind. Now, with the fabrics that we present to you at our store in Delhi, we will do everything in our power to turn this fantasy into a reality for you.