Statement sarees for the wedding season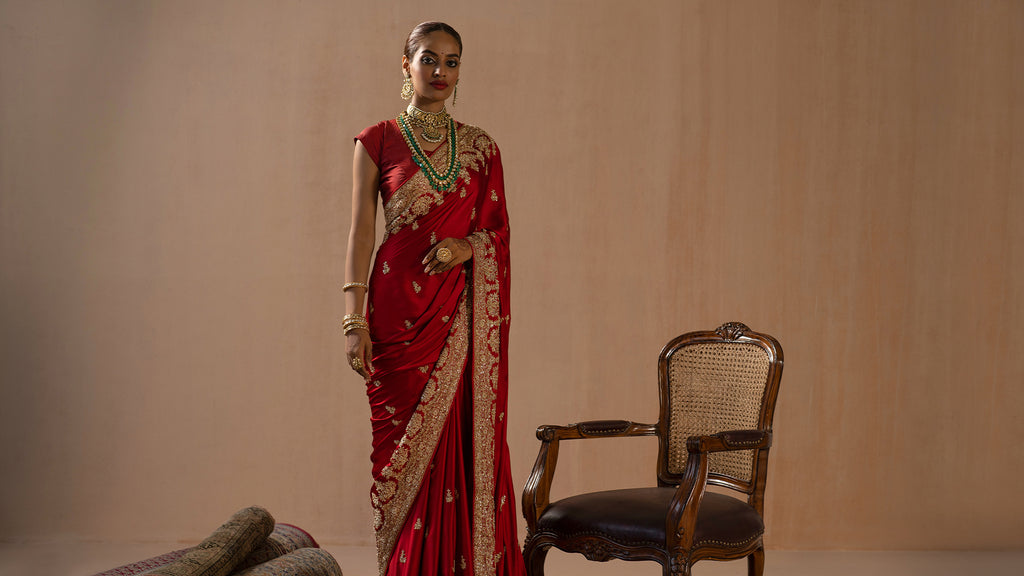 Wedding bells start ringing long before the D-Day. Indian weddings are the most loved in the entire world. While drawing our inspiration from traditional sarees and merging the essence of contemporary styling, we have curated a line of statement sarees especially for your wedding day. Our brand Malhotra's Indian Heritage brings down a line of sarees which are traditional and have the spark of the modern style. As a brand we aim to create intricate designs for you with breathable fabrics which allow you to stay at ease and be the best in terms of style.
We bring you a collection of sarees at our Lajpat Nagar store, Delhi, which not only adorns you for your big day, but becomes a cherished and treasured saree for the rest of your life. Bridal lehengas have become increasingly common as an option for brides to wear at Indian weddings. The days of brides pinning themselves into their silk lehengas are over. The new fashion has a wide variety of alternatives. This blog, inspired by Malhotra's Indian ancestry, will serve as your personal guide as you make your final decision.
Pool of Fabrics and Designs To Choose From:
Fabrics with attractive designs, drapes, and patterns are plentiful on the market. There is a wide range of sarees available in India since each of the country's states has its own set of traditional textiles and weaving techniques. When shopping for a saree, it's crucial to think about how the cloth will feel on your skin. We make this decision easier for you by offering you a wider variety of fabrics that you can choose from for your wedding day.
Malhotra's Indian Heritage is offering you a wide collection of designs to choose from. We offer an intricacy of designs as well as minimalistic styles of sarees for your special day.
Wedding designer sarees are many; and choosing one might be challenging. Below are a few designs and fabrics which you can choose from:
Banarasi Silk Sarees:The sarees from the ancient city of Banaras, also known as Varanasi, are known as Banarasi sarees. Gold and silver brocade (or Zari), high-quality silk, and ornate hand weaving make these sarees some of India's most luxurious. Banarasi silk sarees have become increasingly popular due to its luxurious construction of finely woven silk and intricate embroidery. Many Indian brides choose to wear a Banarasi saree for their special day.
Pure Khaddi Mysore Georgette:These sarees are a true scene-stealer and reflect the true character of Indian females. It exemplifies a lady's excellence. It has a sheer, lightweight texture and is typically composed of silk. Whether it's summer, storms, or winter, georgette Khaddi sarees are worn all year, for both casual and formal occasions. If you wish to get such a saree for yourself, click here and take it home.
Pure Kanjiwaram Silk Saree: One of the most popular types of sarees in South India, the Kanjiwaram saree is traditionally worn by ladies. Today, the saree is the garment of choice for all formal occasions, including weddings. Gold and silver threads add a touch of elegance to the borders of a Kanjiwaram saree or any other garment woven in this style. You'll find 0.6% gold and 57% silver in the Zari, also known as the border of the saree. 
Dabka Handwork Saree:This embroidery came from Rajasthan and the nearby areas that are now part of the country Pakistan. Zari threads are used to embroider Dabka, which is usually done on silk or chiffon. Dabka is a rich embroidery, and it has the elegance of a royal piece.
Lucknowi Chikankari Georgette Saree:Traditional Chikankari Embroidery from Lucknow is highly regarded all over the world. Chikankari refers to a specific type of embroidery that is done using fine white cotton thread. Chikan art in Lucknow dates back more than two centuries and was later supported by Nawabs.
Kardana & Sequin Work: While sarees are traditional, this sequin saree is a hint of the modern era. If you want a bling for your wedding day, then this is the right option for you. Click here to get yours now.
Adorn Yourself According to The Theme:
The design of the marriage saree should go together with the overall theme of the wedding. A few tips that you should keep in mind while choosing the final bridal saree are:
Theme of You Wedding
The Neckline of the Blouse
Matching Jewellery with the Saree
Footwear
This is a small checklist that you must cover while deciding the saree for your wedding. To make this easier for you, our in-store stylists will assist you making these choices.
When a woman crosses the aisle draping the nine-yard beauty, she will definitely make some heads turn. Whether it is your grandma or mother, they would have their prized bridal sarees that they cherish. When it comes to picking wedding sarees for the bride, there are so many aspects that come into play. Here, at Malhotra's Indian Heritage, we are helping you select the greatest sarees for a wedding.