Malhotra's Indian Heritage- Best bridal wear store in Lajpat Nagar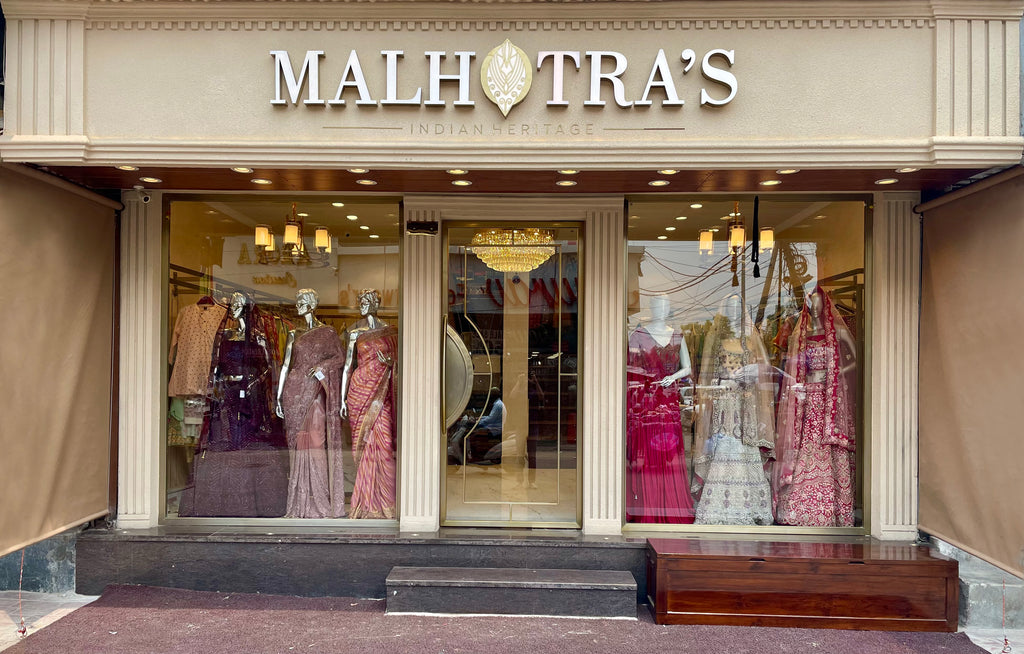 Malhotra's Indian Heritage- Legacy of Bridal Wear in Lajpat Nagar
Malhotra's Indian Heritage- Redefining bridal wear in Delhi
Marriages are representation of love and culture that we carry within ourselves and we in India celebrate marriages with the best of clothes, jewellery, food, venues and everything that adds the gleam and glitz to your wedding. With it comes an extensive shopping for the bride, groom, their families and friends, but first the bride and groom. To offer the brides with the best of exclusive collections for their wedding day, Delhi has a wide array of designers and labels for the same. But what reigns today are the authentic designers and shops in Lajpat Nagar which are been run through decades and are serving the best shopping experience to people from across India.
Malhotra's Indian Heritage is the best store in Lajpat Nagar for bridal wear. With a wide range of beautiful and stylish lehengas to choose from, you're sure to find the perfect one for your big day at our store. Spanning for four decades, we have been relentlessly providing the best collection of bridal wear. Whether you're looking for a traditional red lehenga or something more modern and trendy, you'll find it. With our curated collection of lehengas across all ranges, you can now get your hands on the best outfit as per your budget and you won't have to spend a fortune to get a beautiful lehenga. So if you're looking for the best place to buy a bridal wear lehenga in Lajpat Nagar, be sure to check out our store!
A legacy of making the wedding special
Our store has a wide range of lehengas to choose from, with something to suit every taste and budget. Our sales staff are very helpful and knowledgeable and are always happy to help you find the perfect lehenga for your big day. We help you pick the best piece which portrays the aspects of togetherness and cultural roots.
With wide variety of designs means that you're sure to find a lehenga that suits your taste and style. The high-quality of used fabrics ensure that your lehenga will be durable and last for many years. And, finally, the experience and skill of our tailors ensure that your lehenga will be expertly crafted and fit you perfectly. Not just this, but you can purchase both ready-to-make to running fabrics for your outfit.
Traditional to contemporary lehengas
An amalgamation of classic and contemporary designs can be seen at the store. We have a variety of lehengas from intricate to minimal designs available, each with its own unique style. The first type is the traditional lehenga, which is usually red or green in colour. This type of lehenga is adorned with heavy embroidery and often has a train. The second type is the contemporary lehenga, which is more modern in design. These lehengas are often lighter in colour and weightand have less embroidery than traditional lehengas. The third type is the fusion lehenga, which combines elements of both traditional and contemporary styles. Fusion lehengas often have bolder colours and prints, and more innovative designs.
No matter what type of lehenga you're looking for, you're sure to find it here!
An array of designs, fabrics and hues
Our storehas a wide variety of bridal lehengas to choose from. From traditional to contemporary, there is a design for every bride. The lehengas are adorned with both embroidery and print work which are designed by skilled artisans in different colours to complement your choice. Curated with a wide range of fabrics, these outfits are sure to make heads turn.
The most popular choice amongst brides is the traditional red lehenga. This classic design is perfect for an Indian wedding. It is adorned with intricate embroidery and comes in the colours of red, yellow and green. They also have collection of pastel lehengas, which are very much in trend these days. It has fine fabrics ranging from silk, satin, Benarasi, Georgette, Kanjivaram and more. The designs include dabka, mirror, thread work, embroidery, rich embellishments, that are usually donned on different bridal wears.
If you are looking for a more contemporary design, we also have a range of fusion lehengas to choose from. These designs combine traditional elements with modern silhouettes to create a unique look that is perfect for today's bride. No matter what your style, we have a bridal lehenga that will suit you perfectly. With so many different designs to choose from, you are sure to find the perfect one for your big day!
There is something for everyone
A lehenga from Malhotra's Indian Heritage is the perfect choice for any wedding function! Whether you're the bride, attending a friend's wedding, or simply a guest, we have a lehenga for every occasion.
For the bride, they have a beautiful selection of bridal lehengas. From traditional reds and pinks to more modern hues, we have every design and Colour no could ask for. Our skilled designers will work with you to create the perfect lehenga for your big day.
If you're attending a friend's wedding, you can choose from variety of lehengas to choose from. Whether you want something traditional or more modern, we have the perfect lehenga for you. We also carry a range of sizes so you're sure to find the perfect fit.
And if you're simply a guest at a wedding, there is an exquisite selection of lehengas to choose from. Whether you prefer traditional designs or more contemporary looks, we have the perfect lehenga for you.
With years of experience in the wedding industry, we know what it takes to make your big day special. Our team of experts will help you find the perfect lehenga for your big day, and our collection of beautiful lehengas is sure to make your attire worth every stare and appreciation. Look your best with their curated designs from our  artisans who leave no stone unturned. The wedding season is upon us and if you're on the hunt for the best bridal wear store in Delhi, look no further! We've got you covered with the best selection of bridal wear in the city. From traditional lehengas to more modern gowns, we have something for everyone. So, what are you waiting for?