Different Blouse Necklines that Go with Your Wedding Outfit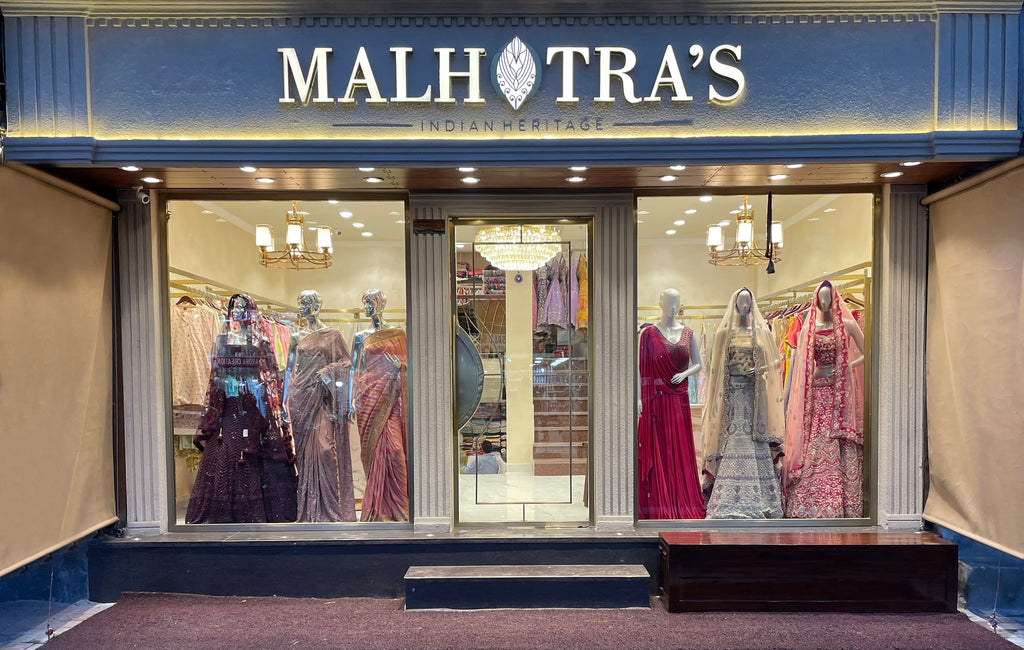 Every future Bride wants her wedding to be picture-perfect. Although the wedding saree or lehenga is a heritage gem that the bride will remember for the rest of her life, the six yards of sheer elegance is brought to life by the blouse, which tells a tale all its own. Your wedding ensemble would not be complete without the bridal blouse. Although Aari work and zardozi are the most popular embroidery styles for bridal blouses right now, there are still many details to attend to in order to ensure that your blouse is the perfect complement to your saree or lehenga. In order to ensure that your wedding blouse fits well, we at Malhotra's Indian Heritage have a variety of various blouse necklines which you can choose from.
We provide the bride-to-be with not only a choice of different kinds of necklines, but also the perfect fit of the blouse which is altered and customised at our Lajpat Nagar Store in Delhi, especially according to your body measurements.
The Blouse Fabric:
Bridal parties frequently opt for a different blouse fabric than what is included with the saree or lehenga. Do not fret over picking the incorrect option because of your fears of ending up at the wrong location. In addition to the sarees and lehengas, we also supply the running fabrics of your choosing.
Bring the saree or lehenga you plan on wearing with you to the store on the day of purchasing the blouse material, so that you can make sure the blouse fabric you pick will go with the colour and texture of the saree or lehenga. Think about the season of your wedding and the expected temperatures while making your fabric selection. Wearing a velvet blouse with your saree or lehenga to a winter wedding is not only elegant, but also practical. As an alternative, if you're having a summer wedding, you may go with a silk cotton fabric and have it embroidered.
Necklines For Your Blouse:
The variety of blouses available today makes it almost impossible to find one suitable for every event. The variety of blouses available makes it difficult to pick one that complements your taste and figure. However, we at Malhotra's Indian Heritage are here to help you as you make this decision , so that you can pick the one that best suits you.
Asymmetric Style:

An asymmetrical blouse gives you a lot of room to experiment with your look and take it in some unexpected directions. If the bride wishes to add a contemporary twist to her classic attire, this is the appropriate choice. Any woman can look good with an asymmetrical blouse. Finding a flattering colour, pattern, and cut is crucial. Wear a colourful asymmetrical blouse with a bold-patterned saree and statement jewellery.
Sweetheart Neckline:

Celebrity brides popularised the sweetheart neckline, and soon it started showing up on bridesmaids' gowns and brides as well. A well-toned shoulder and long, delicate neck are highlighted by this kind of shirt. Those who aren't naturally endowed with a large bust can benefit from this style of neckline because it directs attention to the chest area.
Off- Shoulder Style:

Do not wear off-the-shoulder tops if you are not comfortable with exposing your shoulders. The off-shoulder blouse, however, is the way to go if you're willing to take some fashion risks and enjoy baring some skin. Women with strong shoulder blades, upper backs, and upper arm muscles look stunning in off-the-shoulder tops.  Thanks to actress Sonam Kapoor, this look is seeing a surge in popularity, and it is swiftly becoming one of the chicest looks when worn with a traditional saree.
High-Neckline:

A high-necked blouse is a classic choice because of its simplicity and modesty. Neither cleavage nor any other skin is exposed. A high-necked blouse is a great choice if you want to highlight your long, lean torso and neck. When shopping for the ideal high-neck blouse, look for one made from a fluid, lightweight fabric that won't make you look bulky.
U-Neck Blouse:

One of the best things about the U-neck blouse is that it flatters virtually any figure. Every woman should have at least one u-neck blouse in her closet because of how useful it is. However, it's important to remember that certain neckline cuts have the potential to emphasise the breast. Women who would like cover up more can consider switching to a different style of blouse.
Strapless:

The sleeveless top is a chic, modern nod to the decade's heyday. Recall the music videos of your favourite pop and hip-hop singers, and you'll see plenty of women showing off their toned backs, shoulders, arms, and necks. The once-obsolete strapless blouse has recently had a major renaissance in popularity.
Long Sleeves Blouse:

Women who have longer arms than they do muscle definition can benefit from wearing long-sleeved blouses. Long-sleeved blouses are a safe bet for women with those kinds of arms. You can jazz up a plain blouse by adding ruffles to the cuffs, shoulders, and/or button placket, or you can opt for flared sleeves for a less complicated twist.
While you might be caught up in a turmoil and a whirlwind of what to wear with your saree or lehenga on your wedding day, or for any other occasion, we have it all sorted for you at our
Lajpat Nagar Store in Delhi.