Are Bridal Lehengas Getting A Contemporary Touch?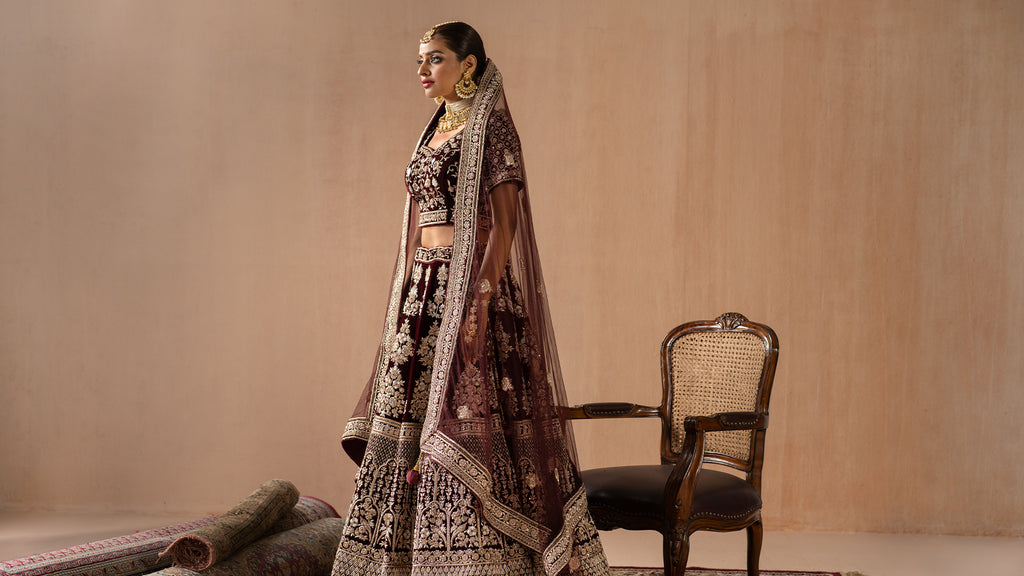 Weddings are one of those once-in-a-lifetime events, so it only makes sense to choose a wedding lehenga that is equally memorable and special. And, after two years of postponement owing to the pandemic, this year heralds a wedding renaissance. What the pandemic also brought top us is the trend of online shopping and while we have it all in our Delhi store for you, we also provide all our luxury outfits in the comfort of your homes through our website Malhotra's Indian Heritage.
While some like to stick to tried-and-true wedding attire, the modern bride prefers to mix tradition with new inventions and give a personal touch to her bridal wardrobe.You've probably seen stunning Asian brides walking down the aisle in glimmering red skirts and veils. For decades, Indian brides have worn saffron red to their wedding rituals. Recently, though, modern brides have been experimenting with this custom.
Change In Choice Of Colours:
The colour red, which is used extensively in Indian religious rites, is associated with many good things. Red has been a staple for most Indian weddings, but today's brides are bringing a fresh perspective and modern touches to the tradition. Today, the colour Indian brides choose to wear is less about tradition and more about expressing individualism, so feel free to veer from the norm if you so want.
Millennial brides are revolutionizing the bridal fashion industry by choosing pastel-hued, delicately embroidered bridal gowns, lehengas and sarees, along with natural makeup and delicate jewellery.
Brides are inclining towards pastels and colours other than red such as golden, fuchsia, pink and other lighter hues. While you want something with a modern spice, we bring to you our special sequin lehenga which you can easily buy from our online store. Click here to get our sequin lehenga.
Shift Of Styles:
Brides are inclining towards a change in their colour pallet and also by opting for a change in style. Our unique proposition for you is that we not only provide you with unique bridal lehengas, but we also provide you with unique party wear sarees, which a lot of women are inclining towards, stepping away from the traditional red lehengas.
As the Gen-Z generation is stepping into the shoes of being brides, we bring to you a collection by Malhotra's Indian heritage categorized into four broad categories:
We bring to you a line of these two exquisite lehenga designs if you are tired of looking at the traditional red lehengas and want to spice up your wedding day with something different.
Collections We Bring In The Modern Era:
While the choice of choosing the right outfit with a modern styling is extremely difficult, we make it easier for you. Our line of party wear lehengas has different styles and designs right in our Lajpat Nagar Store for you in the heart of Delhi.
Alluring Pink Lehenga with Mirror Work: while you're looking for something other than red, we bring to you a beautiful lehenga in a delicatebaby pink. It comes as a shock that the vast majority of girls of colour believe pastels don't complement their skin tone. However, dusty pink and other warm pastel pinks will make your skin glow when worn.
Exquisite Wine Coloured Lehenga:

Elegant and timeless, the wine-colored lehenga is a standout piece from the collection. The fact that it was created by human hands is what truly sets this set apart. This lehenga is a marvel, with hand embroidery and sequins covering every inch of fabric.
Navratan Work Peach Lehenga: This lehenga is a great option for weddings and gatherings because of its gorgeous pastel colours, contemporary cut, and intricate handwork.
Maroon Lehenga With Dabka Work: Dabka embroidery above a silk base gives his lehenga an air of refined nobility that is undeniable. Stunning brides, please consider this maroon lehenga! If you want something that feels both fresh and familiar, you've found the right option.
Pink Lehenga With Golden Work:The pink serves as a backdrop for the golden details of our Dabka. The new Indian bride radiates joy, and the colour gold is a perfect match for her sophisticated, understated, and regal style. The rest of the silhouette should be kept quite understated to keep up the air of refined sophistication. Those who value sophistication and freshness of approach in their personal style would agree that gold is the new red. Best of all, it works well with Indian skin tones.
Key Points While Taking The Decision:
Whether you have an hourglass, pear, or apple shape, there are clothes out there that will flatter you. A modern bride could choose a colour scheme of soft pastels, such as pink, peach, old rose, dusty rose, and ivory. Avoid solid colours and opt instead for lehengas with two or more colours and wide borders if you are a tall girl. Medium-height and Shorter women should stay away from the lehenga with the loud and bulky embellishments.
While it's important for brides to be aware of the latest styles, they shouldn't feel pressured to blindly adopt them. Invest in a set that not only improves your personal style but also adds to the design value of your wardrobe. And to make it all possible, Malhotra's Indian Heritage is available even at your doorstep.